Rodinka Resort is a sports and recreation centre located in the tourist resort Veľká Rača, approximately 300 m distant from the residential area of Oščadnica. It is 7.3 km distant from the main road leading from Žilina to Čadca.
The complex itself involves the cottages Kamilka and Michaela, a playground, a climbing wall, wellness and rental service. The centre has also introduced an absolute novelty - Adventure golf.
Adventure golf is a miniaturized form of an 18 hole golf playground with irregular surface, hills, water surfaces and sand areas. The game is suitable for all age categories and you will certainly have fun during the game.
More information: http://www.adventuregolfoscadnica.sk/
The area of Rodinka Resort also offers an opportunity to try various climbing paths on an 8m high climbing wall. The upper parts of the wall are accessible only with the usage of protecting ropes, the lower parts are accessible freely without any special equipment.

Playground:
A multi-function playground designed for playing football, basketball, volleyball and football tennis. The playground is equipped by night lighting and sound system. It is used as an ice rink in winter.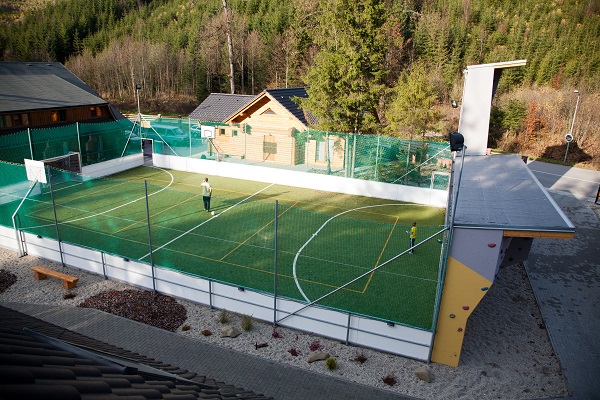 Wellness provides a sauna and a Jacuzzi for 6 persons. If you wish, you can order a massage.
Opening hours:
14:00 - 22:00 or as agreed ( at least 4 persons, with the exception of the program Exclusive)
Rental service:
You can rent sport equipment, skis, snowboards, skates in winter and bicycles, scooters in summer at the rental service u Katky.